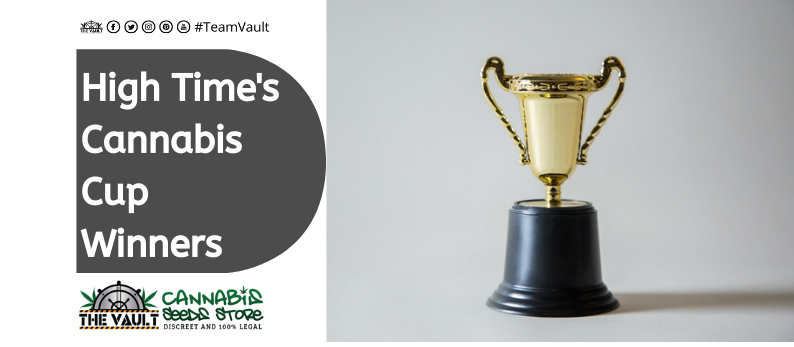 Today we are going to pay homage to the wonderful strains that worked their way to the top and were rewarded with the High Times Cannabis Cup. We will have a little look through all of the different categories to ensure that all the strain types are fairly represented. Each of these has been deemed to be exceptional plants either for their potency, their effect, their yields, or any number of other attributes. The Cannabis Cup takes place all over the world, celebrating cannabis culture in its entirety. For anyone looking for a constantly updated list of the best strains available, just look up the Cannabis Cup winners list. These are just a few of the strains one would find there.
Amnesia Haze
This immediately recognisable name probably doesn't come as a surprise when we're talking the best of the best. This strain actually won twice, once in 2004 when it took 1st Place at the High Times Cannabis Cup, then again in 2012 when it won 1st Place in the Sativa Cup. Amnesia Haze is known for its uplifting and cerebral high that is stimulating and happy. This makes it a great strain for socialising or getting creative. It's THC content usually hits around 22% so it is not a strain to be messed around with. She was created by crossing Thai, Laotion, and Cambodian genetics. This is far from the only competition that this strain has come first in and it won't be the last. She can take up to 12 weeks to flower, but she is worth the wait.
AK 47
AK 47 is one of the finest seeds to come out of the serious seeds breeding company. In chronological order this strain has won 2nd place Sativa Cup in 1999, 2nd place Indica Cup 2003, 1st place Sativa Cup in 2010 and finally 3rd place Hybrid Cup in 2011. This strain is extremely easy to grow and provides amazing results, making her perfect for beginner growers. The beds are dense, not too leafy, and have a thick coating of resin. She is Sativa dominant and has a smoke that is known for knocking blocks off. This strain may be great for beginner growers, but maybe not so much for beginner smokers. She has a flowering time of 8 – 9 weeks and can be grown indoors, outdoors or in a greenhouse.
Arjans Ultra Haze
Another strain that took a couple of titles, namely 2nd place at the 2005 High Times Cannabis Cup followed by 1st place the very next year. This strain has been described as "rocket fuel" and for good reason. The effect is powerful and psychedelic with a hint of meditative that really opens up the brain and broadens the horizons. This makes it a fantastic strain for creatives who want to play around with different mediums. The THC level is anything between 16 – 21%, so can be overwhelming if used in large doses. The high can sneak up on a body so it's best to try and take it slowly at first. Arjans Ultra Haze is a gift to growers, new and old alike. She is adaptable, vigorous and robust meaning she can survive pretty much anything. The growing time is around 14 weeks and she will grow indoors, outdoors or in a greenhouse.
BC God Bud
This strain won 1st place at the Indica Cup at the 2004 High Times Cannabis Cup. BC God Bud is a combination of Hawaiian, God and Purple Skunk. All of these already fantastic strains came together to create something special. This strain is known for its power, with a THC level of 24%. She is also a great medicinal strain, perfect for those suffering from insomnia, a lack of appetite, depression, PTSD, and pain. She is a strong classic Indica which makes her ideal for evening use. BC God Bud is perfect for home growing, but due to her fast flowering and large yield, she is often used in commercial grow setups. She has a flowering time of 8 – 9 weeks and can be grown indoors or outdoors.
Cannalope Haze
Cannalope Haze is a multi-award winning Sativa that took 3rd Sativa IC420 Breeders Cup in 2004, 2nd Sativa IC420 Breeders Cup in 2005, and 1st CABA Cup in 2010 in Buenos Aires. Cannalope Haze was created by crossing Haze Brothers with Michoacan Mexican Sativa. It's resin production and overall yield are extremely impressive. She is a fast and vigorous grower that reacts extremely well to pruning techniques. The effect lives in and around the brain, definitely pushing behind the eyes and causing an uplifting sensation. She smells of citrus and tropical fruit with a sweet and smooth flavour. She has a flowering time of just 63 days and can be grown indoors or outdoors.
Cookies Kush
This delicious strain won 1st place at the High Times Cannabis Cup in 2014. She is a cross between Girl Scout Cookies and Rolex OG Kush. The result is a pure Indica strain with a THC level of 24%, the CBD is relatively high at 1 – 5%. The flavour is nutty and earthy with an enchanting scent of cinnamon that makes this strain entirely too delicious. She has a powerfully relaxing effect that makes her excellent for anyone who is stressed out or struggling with sleep. She's basically a hot bath in a skin, definitely something most of us need right now. She also provides amazing yields of up to 600g/m2 and she grows vigorously flowering in just 8 weeks. This makes her a perfect strain for commercial and recreational growers alike. She needs a decent amount of heat when growing so will do best indoors or in a greenhouse. Novice growers should keep an eye on her to make sure she stays happy.
These are just a few of the many fantastic award winners available. As always do plenty of research to find the perfect strain, there is an awful lot to choose from.
Remember: It is illegal to germinate cannabis seeds in many countries including the UK. It is our duty to inform you of this fact and to urge you to obey all of your local laws to the letter. The Vault only ever sells or sends out seeds for souvenir, collection or novelty purposes.
Make sure you never miss another Vault promo and sign up for our newsletter at http://goo.gl/Bt2Ba2