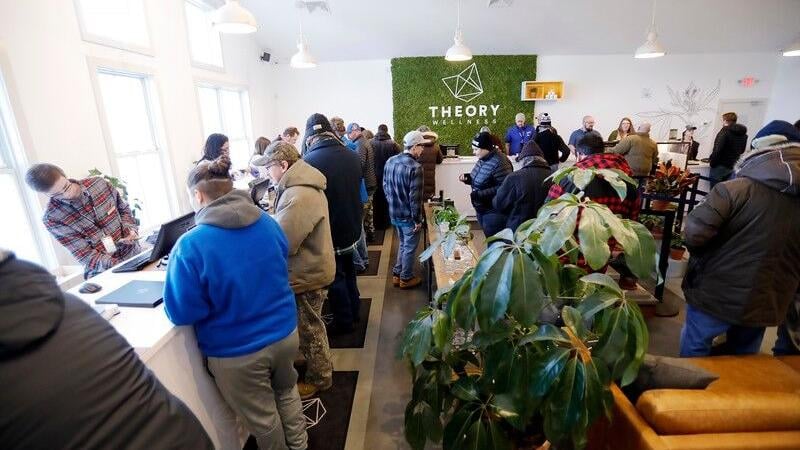 GREAT BARRINGTON — As pot shops bloom in a legal landscape, so might problems.
But there is a tariff on recreational cannabis that state and local officials hope will counter them called Community Impact Funds — one that already has amounted to $1.7 million in town revenue from Theory Wellness.
Now, $185,000 of that fund money can be spent, and the town is giving it to four local organizations and the school district to help prevent or solve any fallout from legal pot. That amount represents the company's first-quarter fee to the town, after opening in January 2019.
On Monday, the Select Board announced the recipients of the Community Impact Fund program, after a committee made the decision:
• Berkshire Hills Regional School District: $80,000
• Railroad Street Youth Project: $50,000
• Berkshire South Regional Community Center: $20,000
• Volunteers in Medicine: $20,000
• Construct Inc.: $10,000
After cannabis was legalized for recreational use, the state has allowed cities and towns to tax gross annual sales at a maximum of 3 percent for impact funds.
The fees are levied in addition to the 3 percent sales tax that also goes to the town, and that, so far, has sent $3.4 million into town coffers since Theory began sales, according to Town Accountant Susan Carmel. The figure does not include this year's revenue for the second quarter.
Tax revenue can be spent however the town wants, but community impact money can only go toward initiatives that mitigate problems, like substance abuse, associated with legalizing the plant.
'Scare tactics' are harmful Some recipients already have made a difference, and the money will fortify ongoing efforts.
"For us, this work is not new, and this funding is to support the work we've been doing successfully," said Ananda Timpane, executive director at the Railroad Street Youth Project.
Timpane said the group's initiatives with young people, parents and other organizations already have made significant strides in reducing drug and alcohol use since it began collecting data in 2009, when students were using substances regularly at significantly higher rates than nationally.
Since then, alcohol use among seniors at Monument Mountain Regional High School has dropped 30 percent, to 48.1 percent, and cannabis use has dropped 22 percent, to 40 percent. Nationally, cannabis use among teens has remained steady, at about 20 percent of high school seniors, Timpane added.
"The data shows that what we're doing was working," she said, noting that fears of an increase in cannabis use after legalization have not materialized.
She also credits the group's "nonjudgemental approach."
"Scare tactics are harmful to public health efforts," she said.
At the schools, the plan is to use the money to hire a health and wellness coordinator to support efforts underway by a committee of parents, students, staff and other partners like the youth project, said Peter Dillon, superintendent at Berkshire Hills. He said he is excited about the additional money for this, "particularly in the context of these challenging times."
At Volunteers in Medicine Berkshires, which provides free medical and dental services to the underinsured and uninsured, the money will go toward prevention within the behavioral health program, and primarily within the immigrant community, said Executive Director Ilana Steinhauer. She said Volunteers in Medicine doesn't see a lot of substance abuse, but that its clients do face specific stressors.
"Anyone, in general, who's left home — oftentimes there's a lot of risk with that," she said. "Leaving family, not speaking the language, and oftentimes you're here alone."
Steinhauer said prevention is helpful, even though it still is unclear whether legalization will increase use.
"The impacts of having substances that you use frequently that start to interfere with your life is what we want to prevent," she said.