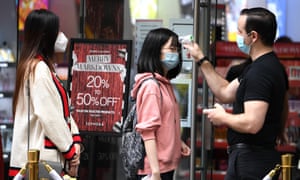 2.29am GMT
02:29
WA reports six new cases in quarantine


1.20am GMT
01:20
Search continues for 'patient zero' of northern beaches outbreak


12.38am GMT
00:38
Full details of NSW restrictions from midnight


12.24am GMT
00:24
Brad Hazzard tells rulebreakers 'cut it out'


12.12am GMT
00:12
NSW to revert to pre-Christmas restrictions


12.04am GMT
00:04
Nine locally transmitted cases in NSW


11.33pm GMT
23:33
Tasmania's Mona museum reopens on Boxing Day
3.16am GMT
03:16
Updated
at 3.18am GMT
3.09am GMT
03:09
As my colleague Mike Ticher mentioned earlier, I am currently in hotel quarantine in Auckland, and having recently returned to the Antipodes, I'm enjoying Calla Wahlquist's roundup of some of Australia's weirdest place names.
My personal favourites are Joel Joel, and the multitude of Knobs – let us know yours in the comments.
Updated
at 3.22am GMT
3.06am GMT
03:06
Updated
at 3.13am GMT
2.47am GMT
02:47
Updated
at 2.57am GMT
2.29am GMT
02:29
WA reports six new cases in quarantine
Updated
at 2.36am GMT
2.24am GMT
02:24
Updated
at 2.39am GMT
2.11am GMT
02:11
Updated
at 2.39am GMT
2.00am GMT
02:00
Updated
at 2.32am GMT
1.20am GMT
01:20
Search continues for 'patient zero' of northern beaches outbreak
Updated
at 2.41am GMT
1.16am GMT
01:16
India allrounder Ravindra Jadeja has taken an unbelievable catch in the Boxing Day Test against Australia, and it might be the best catch I've ever seen. It doesn't involve a huge dive over the boundary or anything, but in terms of performing under pressure …
Matthew Wade slices it high towards deep wide mid-on at the MCG. Two players are running back for it: Jadeja and Shubman Gill. Both have to keep tracking back and running a curve. It is clearly Jadeja's catch, but Gill is green and excited and keeps running …
Jadeja calls. Gill doesn't hear it. Jadeja at full tilt, tap-dancing to try to get into position under the ball, sees it coming down to him … and then Gill arrives, diving across Jadeja, falling in front of him, almost tripping him over. And still Jadeja takes the catch! Under all of that interference, that he makes up perhaps 40 metres, gets in the right spot, and isn't distracted by a whole human being thrown at him like this is a circus act.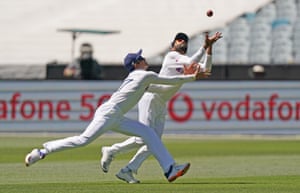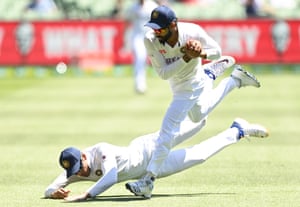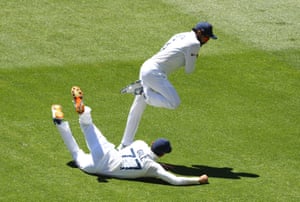 Updated
at 1.33am GMT