Two Cannabis-Infused Cocktails for Christmas
2020 is almost done, so let's raise a glass and shake up Two Cannabis-Infused Cocktails for Christmas.
At the beginning of COVID, I admit my daily dose went up, as did my cocktail drinking.
Without fail, just about every day from March 2020 until June or so, I would have a delicious little cocktail at around 4:30pm.
I didn't even care if it was 5:00 O'clock anywhere, Mama needed her cocktail!
Can you relate?
So like clockwork, I would have all of my little bottles and elixirs, fresh orange zest or whatever garnishes I was in the mood for all ready to go.
A little shake-shake-shake with ice, a beautiful glass, and voila! I dealt with COVID my way.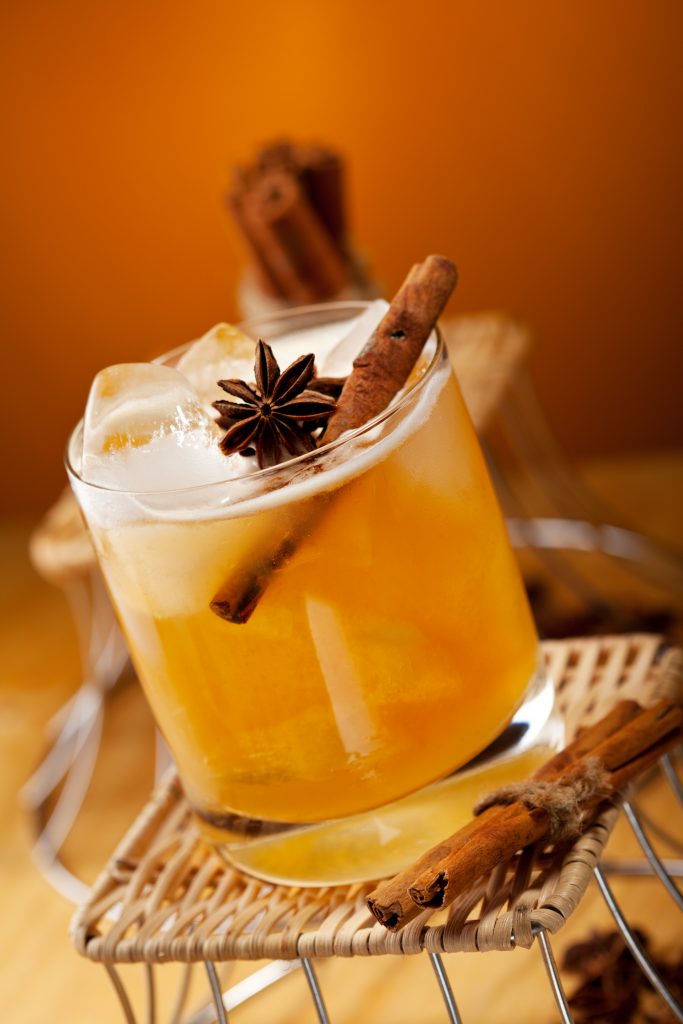 Cannabis Cocktails Are The Best!
Here's what I didn't know back then, that I know now. (sounds like a familiar song for all those around 40+)
Have you ever heard of crossfading? It does not happen in the studio when you're laying tracks.
Crossfading is super important to know when you're consuming both cannabis and alcohol.
If you don't want this effect, but you're into a delicious and refreshing cannabis cocktail with CBD – check out Cannabis Cocktails – Hemp You Can Feel.
What Is Cross Fading?
Cross Fading occurs when you drink booze, and toke, smoke, or eat edibles with cannabis (THC).
You need to be mindful of this effect – which basically means you'll feel effects from first, the alcohol, and then second; cannabis.
If you have ever been around or near an audio mixer, you'll notice all of the sliders and buttons designed for the best sound possible.
Crossfading is a blended combination of sounds – and in this case, a blended combo of feeling high or buzzed.
It's important that you always keep what I call: " My Marijuana Mantra" at the ready:
"Dose LOW and SLOW"
Edibles take a while to kick in – for some an hour, for others a few. So if you're just starting out, don't pound the shots or martinis – sip and enjoy, go slowly.
Two Cannabis-Infused Cocktails for Christmas
I choose these two fun and flirty cocktails because:
They're easy to infuse and make on the fly, once you have your cannabis-infusion complete.
They're yummy, festive, and look amazing!
You can use Cannabis Sugar as a rim. OMG!
How Do I Infuse Cannabis Into Alcohol?
Here's a handy recipe on how to infuse cannabis into any alcohol you like. Just substitute the booze to your liking.
Bookmark it to your favorites! (wink, wink!)
You'll need cheesecloth or pantyhose. Yes! seriously!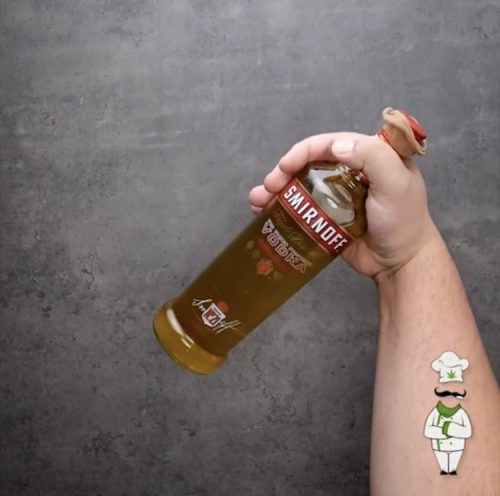 Decarboxylate your weed by spreading your cannabis evenly on an oven tray And coat with aluminum foil.

Place in the oven on 240F/115C for 25 till 45 minutes, and then let it cool.

Chop or grind the cannabis and wrap into cheesecloth to come up with a small package.

Place the package in a bottle of vodka. And let it infuse for 3 days. Shaking every 12 hours.
Let's start mixing our cocktails!
Drunk Jack Frosties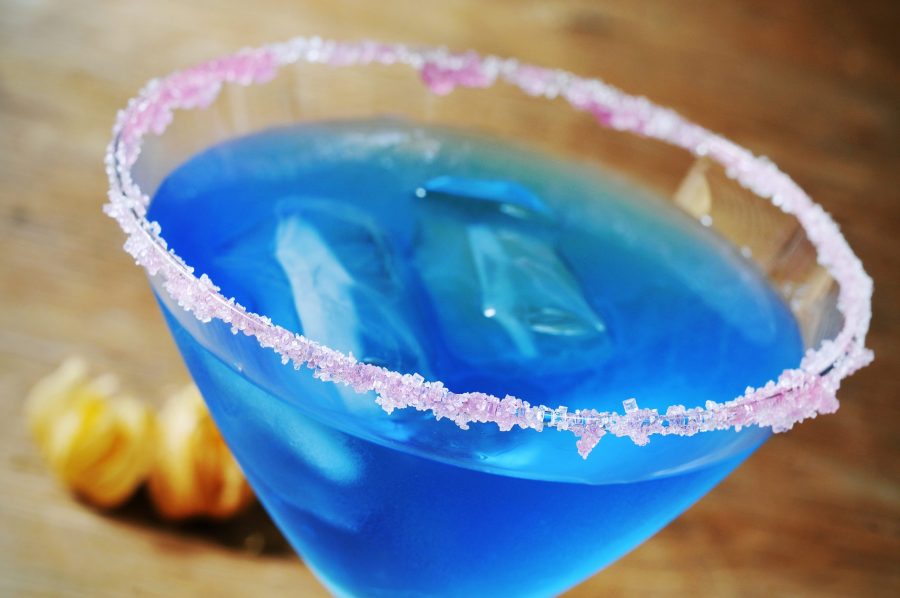 Author: Steph Van De Ven
Cost: 25+
1. Infused your Vodka With Cannabis.

2. Let it infused for 1-2 days first.

3. When ready, mix up all of your ingredients except for Cannabis sugar in a large pitcher and add a handful of ice cubes, or crushed ice.

4. Place your cannabis sugar on a side plate, rim your cocktail glasses with fresh lime all around the edges a few times, then place your glass upside down directly ontop of the sugar and press and turn several times.

5. Repeat for everyone's glasses.

6. Slowly pour your alcoholic mixture into each glass and enjoy repsonsibly!
Snowflake Weed Martini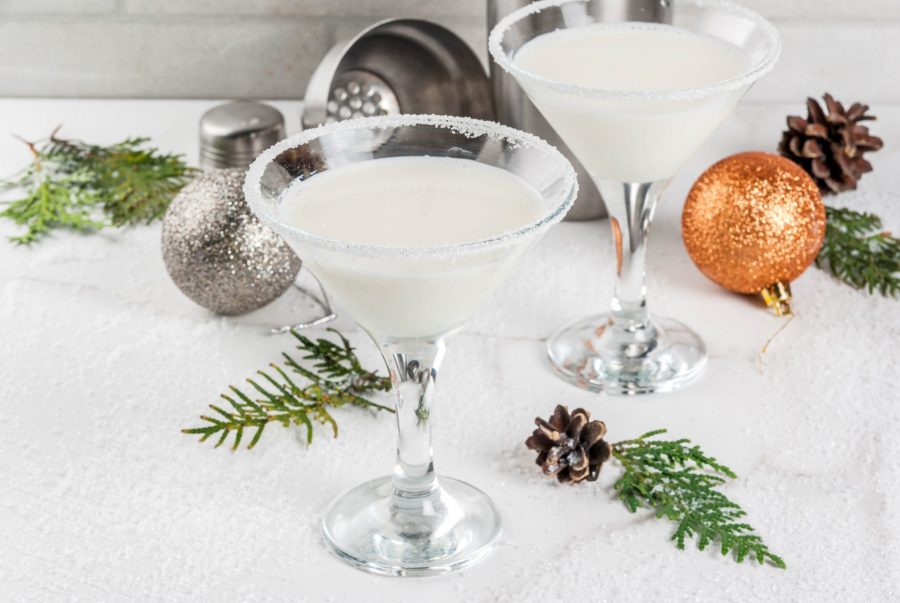 Servings: 1 person
Author: Steph Van De Ven
Cost: 25+
Martini Glasses

Cocktail Shaker

Ice

Cutting Board

Small side plate

Sharp knife
Combine all of your ingredients into your cocktail shaker. I put mine in the refridgerator overnight so it's ice-cold and chilly!

Place your Cannabis Sugar on a side plate

For every glass, rim the edge of the drinking part with fresh lime. This helps the cannabis sugar stick.

Dunk each glass, drinking side down, into the cannabis sugar and press down, and turn a few times so the entire rim is coated.

Repeat for all drinks.

Pour each martini glass full to the brim with your Snowflake Marijuana Martini, and enjoy responsibly!